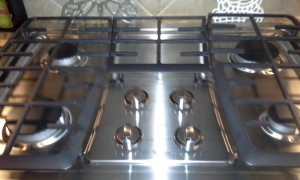 One of the most popular cooktop these days is made of stainless steel. There are plenty of types, model and sizes. Whether gas or electric, cleaning and maintaining does not have much of a difference. But use precaution. Make sure the stove is no longer hot.
Any piece of equipment works better and lasts longer when maintained properly and kept clean. Cooking equipment is no exception. Your cooktop must be kept clean. Make sure all controls are in the "OFF" position.
I recommend wiping away spills as soon as it happen to avoid spills from hardening.  A handy damp sponge will help clean up the spills. This easy clean up can be done after each cooking.
For heavy built up spills and stubborn mess more time and elbow grease cleaning maybe necessary. This is when you need to have energy and time to do the thorough cleaning. Always follow the manufacturer's care and maintenance policy.
My recommendation from: howtocleanstuff.net
You will need Bar Keepers friend, sponge, water and soft towel/microfiber.
Wet the sponge to use to moisten the stainless surface to be clean. Spread the bar keepers friend over the stove top. Use a gentle scrubbing following the grain. Rinse the sponge, wipe clean the surface. Finish by wiping the wet surface using the soft towel.
For optimum appearance, use a stainless steel cleaner to remove smudges and fingerprints and follow up with a stainless steel polish to make the stove top shine. Polish should not be used daily. Once every couple of weeks should be adequate. Make sure to rub in the direction of the grain/brushed finish.
Holidays are coming a well maintained cooktop will be handy for cooking holiday food.